Inspired Executives provide 1:1 coaching for leaders – front line to C-Suite and in life  – across the globe via Skype, phone and in-person. Some of us hold leadership roles in organizations in addition to their life leadership role. At Inspired Executives we welcome you if leadership is your way of being and if you hold a corporate leadership role.
Annette is an active member of the International Coach Federation (ICF). Through her accreditation as Professional Certified Coach (ICF), Annette adheres to the highest ethical standards in the coaching industry. ICF defines coaching as partnering with clients in a thought-provoking and creative process that inspires them to maximize their personal and professional potential, which is particularly important in today's uncertain and complex environment. Coaches honor the client as the expert in his or her life and work and believe every client is creative, resourceful and whole. Standing on this foundation, the coach's responsibility is to:
Discover, clarify, and align with what the client wants to achieve
Encourage client self-discovery
Elicit client-generated solutions and strategies
Hold the client responsible and accountable
This process helps clients dramatically improve their outlook on work and life, while improving their leadership skills and unlocking their potential.
Team coaching enables teams to function as more than a sum of its parts by clarifying what the team is there to do and by improving the relationships both within the team, and between the team and its external environment. Team coaching with Inspired Executives is a well-blended synthesis of team facilitation, organizational consulting, organizational development, individual work, and team development work. The specific combination and approach used depends on the formation of the team, what stage the team is at in its lifecycle, the organizational context, and the issues and challenges the team faces.
Team coaching sessions can include
Design thinking or lateral thinking
Creativity and problem solving techniques
Lean start-up and innovation mindset
Vision and mission statements or team development activities
Change impact analyses or stakeholder maps
Communication strategies or conflict resolution.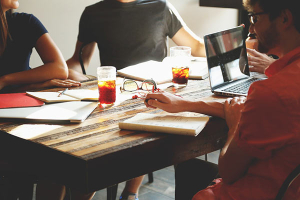 Coaching with Inspired Executives leads to:
Innovation: Coaching is the language of innovation. Coaching enables leaders and their teams to find clarity, brainstorm possibilities, make informed decisions, have the essential conversations needed to envision, strategize, develop, mobilize and commit to action. Change your business game with Inspired Executives.
Change Management: Coaching is the art of improving performance. Coaching aims at helping leaders and their teams to work through the implications of the change themselves, without telling them what to do. Instead, they are enabled to identify answers for themselves, thus, becoming co-creators of the change. Transform your business with Inspired Executives.
Leadership Excellence: Coaching catalyzes the delivery of results. Coaching helps uncover what kind of leader you want to be(come) by strengthening your self-awareness (calibrating your inner compass and reinvigorating authenticity), self-leadership, communication, approach to change management, leadership presence as well as relationship skills. Become the best version of yourself with Inspired Executives.
Resilience: Coaching fosters a positive mindset. Through coaching, you can identify the individual factors that cause you stress, you will learn how to set clearer boundaries and deal with energy thieves. Through coaching you will also improve your self-confidence, discover your inner strength, gain a new perspective, achieve balance in your life, and take control again. Manage your energy, not your time. Inspired Executives help you change your narrative.
Cross-Cultural Communication: Coaching helps overcome the most difficult situations. Coaching helps you accept and embrace the differences of your diverse workforce, leverage a shared vision, promote open communication, foster strong work relationships among virtual teams, and boost interoffice rapport. Through coaching you will increase your self-awareness and clarity on your own cultural identity and how that impacts your decision-making, communication and team management. Work with everyone everywhere. Inspired Executives help you navigate your discomfort zone.
Find out what our clients say.
Inspired Executives' Leadership Philosophy
The Inspired Executives' approach to developing supportive and transformational leadership in work and life is embodied in this philosophy:
Leaders are made, not born. Everyone is a leader in their lives, some of us also hold corporate leadership roles. Leaders emphasize their self-development. They know they can move beyond their fear or whatever might currently block them to become the best versions of themselves.
Leading others starts with leading yourself. Leaders who enhance their awareness have the greatest impact as they effectively manage the congruence of intention, action and perception. They are able to transcend their egos. They look inside first.
Leaders, who choose to express their most valuable qualities authentically and courageously, enable change and have a bias for action. Their leadership infuses organizations with inspiration and energy that move people forward. They focus on people and gaining clarity to achieve alignment and results.
Leaders see their team members as human beings. They are able to acknowledge and look beneath immediate actions or human expression. Leaders are aware of the interlinkage of physical, emotional, mental and spiritual energies. They bring their whole selves to work and life, and they encourage others to do the same. They are very curious, open-minded, and flexible. They listen deeply and ask powerful questions.
The world needs leaders who are dedicated to creating a thriving future for global businesses and our collective and sustainable well-being. The future requires leadership with the creative capacity to contribute to the evolution of humanity and transform its way of thinking and being in organizations across the globe.