Public speaking is like writing-out-loud. Annette's style is practical, slightly educational, a little matter-of-fact, yet creative, peppered with a little humor, sometimes provocative, and always personal. Leadership topics she covers include innovation, change management, leadership excellence, resilience, and cross-cultural communication. As a Certified Story Coach™, Annette loves stories. Using stories makes your message memorable, gives your audience something to relate to, and captures their attention, motivating and inspiring them in new ways. Stories tap into more than one element of communicating.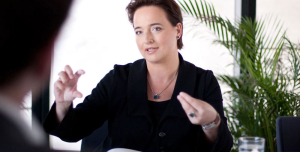 Hire Inspired Executives for a key note speech or plenary address to engage and inspire your audience at a deeper level for memorable moments. We help you convey or reinforce your message, provide you with expertise and knowledge, and assist you in designing a diversified event. Annette's previous speaker engagements include:
"Managing office politics or doing water ballet in the shark tank?"
These were the key elements of the presentation:
What – understanding political games in organizations
Why – uncovering origins, rationales and drivers of office politics
How – applying survival strategies and tactics to manage office politics
"Leadership Excellence. Inspiring performance and long-term success."
This was the content outline:
Severe turbulence is the "new normal" of today's business conditions; equally presenting opportunities and challenges. Organizations have to flex dramatically to adapt to these new and fluid market environments, and their leaders need to pave the way by demonstrating an ability to adapt themselves. The coming years will see leaders face even more challenges at a cognitive, emotional and behavioral level.
Tom Peters defines excellence in leadership as a state of being, he expressed it as "the person who is completely there for you". Time has come to refine what leadership excellence means. In today's world, it is more than a batch of principles;  it's a set of values and beliefs, ways of thinking, a matter of discipline, and ways of focusing.
Who you are as a leader matters. In every moment leaders can choose who they want to be, and how they want to appear. Their authentic identity changes in response to the impact of their experiences. It is like a dance to engage with who they thought they were, and who they are now in the moment. Great, authentic leaders lead with their heads, hearts, and guts.
"Seven steps to success: Managing stress and building resilience."
The presentation was structured based on this seven steps approach:
Knowing yourself
Creating a solid foundation
Physical energy – learning from the athletes
Emotional energy – moving from fear to love
Mental energy – strengthening focus and optimism
Spiritual energy – defining your purpose and vision
Taking actions
Further key note speeches by Inspired Executives:
"Change your story. Change your world." (An introduction to storytelling)
"Engaging people's heads, hearts, and guts: Using insights from neuroscience to lead change."
Inspired Executives' Leadership Philosophy
The Inspired Executives' approach to developing supportive and transformational leadership in work and life is embodied in this philosophy:
Leaders are made, not born. Everyone is a leader in their lives, some of us also hold corporate leadership roles. Leaders emphasize their self-development. They know they can move beyond their fear or whatever might currently block them to become the best versions of themselves.
Leading others starts with leading yourself. Leaders who enhance their awareness have the greatest impact as they effectively manage the congruence of intention, action and perception. They are able to transcend their egos. They look inside first.
Leaders, who choose to express their most valuable qualities authentically and courageously, enable change and have a bias for action. Their leadership infuses organizations with inspiration and energy that move people forward. They focus on people and gaining clarity to achieve alignment and results.
Leaders see their team members as human beings. They are able to acknowledge and look beneath immediate actions or human expression. Leaders are aware of the interlinkage of physical, emotional, mental and spiritual energies. They bring their whole selves to work and life, and they encourage others to do the same. They are very curious, open-minded, and flexible. They listen deeply and ask powerful questions.
The world needs leaders who are dedicated to creating a thriving future for global businesses and our collective and sustainable well-being. The future requires leadership with the creative capacity to contribute to the evolution of humanity and transform its way of thinking and being in organizations across the globe.