Leaders*,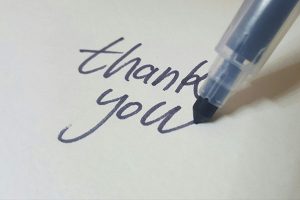 Well, it's the time of the year again to reflect on what we have and appreciate. What have you been particularly grateful for? Who deserves a heartfelt gesture of gratitude? Have you seen everyone and all contributions on your team?
When it comes to business, it is easy to fall into the trap of not seeing people whom we work with. Been there, done that. Not good. What I learned as relates to relationships at work and in life is that nothing (absolutely nothing) can be taken for granted. And recognizing team members actually impacts business results. Gratitude helps you see the positive things in life, and it is the engine of asset-based thinking (as opposed to deficit-based thinking).
Deficit thinking creates a mentality of fear, of failure of never being able to rise above the situation. It creates a culture where change takes an enormous amount of effort and energy that leaves the organization exhausted. People complain, feel depressed or hopeless. Have you ever experienced a corporate culture as such?
Gratitude is the fastest way out. Leaders who see their team through the lens of gratitude will always see the untapped potential in people and inspire them to achieve what seems impossible. And asset thinking focuses on what works, on opportunities and building strength through positive efforts that move the business forward. It's searching for the route to better use of your assets.
Studies show that we can consciously choose to cultivate gratitude, and can increase our happiness as well as personal and relational well-being by doing so. Gratefulness, and expressing it to others, is associated with heightened energy, optimism, and empathy.
Practice gratitude daily, especially in a business context. It is healthy! You can accumulate a large reserve of positive energy, generated through gratitude, all year long. Each day gives us something to be grateful for and a little bit of gratitude goes a long way. Gratitude is not only a virtue, but a leadership strength. Inspired Executives help you develop your attitude of gratitude. Contact us.
Happy Thanksgiving & happy holidays!
Lead courageously, Annette.
*All of us are leaders in their own lives; this is whom the address first and foremost refers to. Some of us hold leadership roles in organizations in addition to their life leadership role. At Inspired Executives we welcome you if leadership is your way of being or if you hold a corporate leadership role.