Leaders*,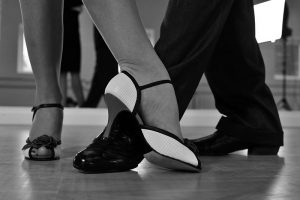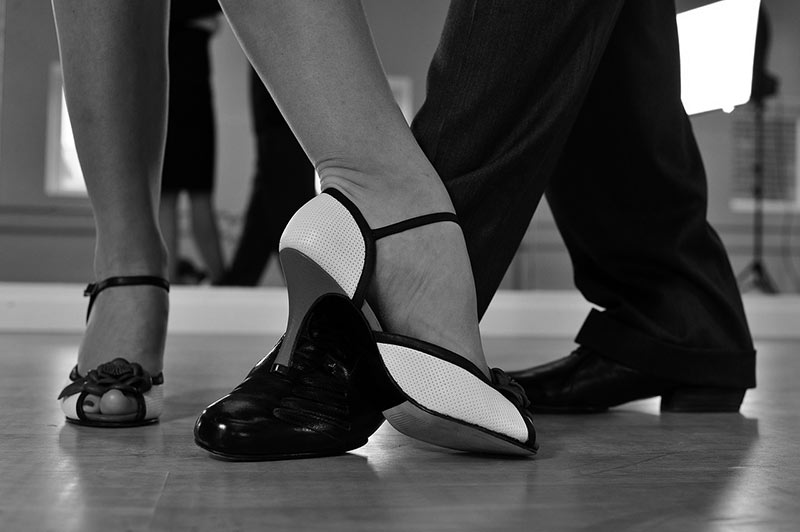 Have you ever been accused of being top-heavy, data-driven or too analytical? Have you ever ruminated to the extent that you couldn't fall asleep? How often have you been involved in arguments that basically were about being right or wrong? Have you dreamed about something for a long time and never acted on it? Did you find yourself numbing your senses by drinking too much caffeine or alcohol, watching too much TV or just not focusing on the right priorities? If one or all of the above is true for you, it is high time to get out of your head!
"If you get in your head, you're dead."

Tony Robbins (*1960), American motivational speaker
When our energy is low, we have a tendency to move into our fearful head. To keep our energy high, we need to get into our hearts and passion instead, and do what it takes to pump ourselves up. Music helps and so does anything that makes us feel playful, alive and in the moment.
For me, it is ballroom dancing that gets me out of my head and into a sensing and feeling mode. What I have found over the years is that there are numerous similarities between dancing and coaching. Let me show you alongside the core competencies of the International Coach Federation (ICF):
Setting the foundation
Dancing is noblest form of taking care of each other. When we dance, we move our bodies and feet in a way which follows a rhythm, usually in time to music. Dancers need to know the basic rules for safely swirling over the dance floor, for instance the direction of dancing in the ballroom or the basic steps for a particular dance or the optimal posture. They also need to exhibit a sense of rhythm to be able to align their steps to the music and the space. In classical ballroom dancing it is the gentleman who leads and decides which figure is next. However, the movement of the lady and her resonance to his leadership also determine what will be possible in terms of next steps.
The International Coach Federation (ICF) defines coaching as partnering with clients in a thought-provoking and creative process that inspires them to maximize their personal and professional potential. As an ICF accredited coach, I adhere to their ethical guidelines and professional standards. Before starting a new coaching assignment, we clarify the actual development need and goal, outline steps to achieve that goal as well as the roles and responsibilities.
Co-creating the relationship
Your dance partner enters your personal space. So you personally want to feel good about it and you want him to feel welcome, too. If you don't feel like giving him a hug, don't dance with him. Before starting to dance, my longstanding dance partner Fred and I become aware of our physical length, width and depth, our connection and position in the room, and how we relate to the other dancing couples. We then listen to the initial beat to get a sense of the rhythm and also the mood of this special piece of music. We might gently adjust our posture; then we kick into full gear striving to maintain our presence.
We have realized, that the environment has a huge impact on our well-being and sense of security. We found a place that is welcoming, respectful, and fun. If you live in the Rhine-Main area in Germany, please pay us a visit at the Tanz-Punkt in Eschborn.
Humans need to feel safe to fully open up and take the courage to face what might be in their way. That requires trust, respect and flexibility. As a coach, I aim at creating a supportive environment that encourages my clients to process and express any tender issues, concerns, emotions or daring thoughts. By being fully present, aligned with my senses and focused on my client, I invite them to come back to their center and help them see their situation from a new perspective.
Communicating effectively
While dancing, Fred's and my attention predominantly is with each other. We need to feel where the other is spatially, and how we are doing physically. Of course, we also need to consider the other couples on the dance floor. Our communication is almost exclusively non-verbal when we dance, and yet, there is so much somatic information like the degree of muscle tension from the other that we have learned to interpret over the years. The major prerequisite is attention and presence. We need to be open, flexible and attentive to each other's somatic information.
When coaching, my energy and attention is with the client. Active listening means not only hearing the actual words but also what is between the lines, what the clients are not saying and how congruent their expression is. This informs the creation of my next question. The language that I always intend to use is appreciative and direct with an eye on the goal(s) that we initially agreed upon. The communication process with a client needs to be handled sensitively and non-judgmentally.
Facilitating learning and results
Ballroom dancers form the smallest sports team. Fred and I are in this together. Only jointly can we figure out why certain moves don't work yet. We use the somatic information of ourselves and each other, talk about it, then slowly try to exhibit the figure so that our feet learn their way and our body can memorize the rotation. Often times, our dance teacher Axel Hurow needs to help us design our next actions. We keep trying and practicing – always. That's our commitment to each other, while having a lot of fun. For a touch of routine or flow to occur on the dance floor, we gotta keep on dancing.
During the coaching process, my clients usually have numerous aha-moments. By being more centered, they have access to multiple sources of information that help them move into the desired direction. We increase the clients' awareness and consciousness, identify new actions for them to proceed, establish and update their development plans, and hold them accountable for taking purposeful actions.
In essence, the level of attention we pay to ourselves, each other, and our surrounding – when dancing or coaching – makes all the difference. In this presence we are able to sense the connections and access the wisdom of the body. Only if the mind is connected with our heart and gut, that have an intelligence of their own as proven by neuroscientists, we can integrate all relevant data, make sustainable decisions and take decisive actions.
Fred and I love the slowfox, it continues to be our favorite dance. One Saturday night, we danced to the slowfox version of Michael Jackson's "You are not alone". Not only had I goose bumps all over my body but I was also close to tears. It was an overwhelming feeling of being alive, vivid, and connected.
Who you are, not what you do nor what you have, becomes the quality of your overall life. Look inside first. Coaching skills have been in increasingly high demand by corporate leaders. There are more leadership lessons from the dance floor in one of our previous articles including consciously getting out of our heads frequently.
If you want to figure out optimal ways for you to be in the moment and to line head, heart, and guts, contact us. We are as always just an email or phone call away.
Lead courageously, from your head, heart and guts,
Annette.
*All of us are leaders in their own lives; this is whom the address first and foremost refers to. Some of us hold leadership roles in organizations in addition to their life leadership role. At Inspired Executives we welcome you if leadership is your way of being or if you hold a corporate leadership role.