Leaders,
A friend, colleague and client of Inspired Executives has started a major transformation about a year ago. While it took her a while to make that tough decision, the insights and freedom she is gaining in her journey are invaluable and encouraging for others.
This is Gesche's story: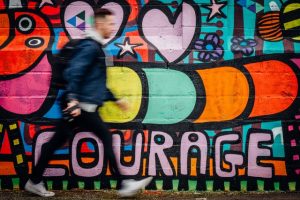 "My best decisions have always been those that I have made intuitively. These are decisions that slowly grow almost subconsciously within me; it often takes weeks for them to surface into my awareness. At some point I realize that my path is clear; that I have already made my decision. This feels really good and relieving, but also always a bit scary, because I am always amazed (or should I say shocked?) at my own courage. I don't think I'm particularly brave, I'm more of an analytical person who carefully weighs alternatives, yet it is important to me to act in accordance with my values, and that often forces me to be more brave and clear than might be convenient and easy for me and others in a given situation. Often enough I have blamed myself for not making it easy for myself, but when I had acted then I always knew that I was in tune with important needs and values. It's worth it to me. Every time.
Until I actually notice my intuitive decision myself, weeks of restless sleep and abdominal pain often pass during which I feel that I will have to act soon. My body often knows this earlier than I do, and I have learned to perceive and take these signals seriously. When I made the decision in February to quit my permanent job in order to do a sabbatical for a few months (maybe eight, maybe 12), it was also an intuitive decision that evolved deep inside me over a few months. Until I felt this decision, I went swimming regularly for weeks, meditative breaststroke, and I always took paths back and forth, because I can't meditate well and I struggle with relaxed stillness when I can't read. The movement in the water did me good, cleared my head and encouraged my heart.
I had two good reasons or ´directions` for my resignation; on the one hand I wanted to escape from an unsatisfactory job situation, i.e. leave an old condition, but on the other hand I also had the longing for a new creative freedom. Even as a child I had never been bored, and when I entered the corporate world 10 years ago, there were many things I would have liked to have more time devoted to than is possible when working full time. When I quit, I was looking forward to being able to do more of the things I love. Like writing. To open up new professional contexts by means of further training, which I would not have wished to do while working.  Collaboration with an independent theater. Working with people who dedicate every day to their passion and being inspired by new constellations and themes.  Reactivate a foreign language. Sitting by the sea with a notebook.  To travel with friends, but also to travel alone and get to know myself better. to seek conversations with other people. I wanted to give myself the chance to experience the new. And at the same time the time to process them with peace of mind and write about them.
I very well knew the reasons for and against giving notice. Of course it helped that I didn't have to take care of anyone but myself and that I had put money aside in the last few years. Nevertheless, at the beginning it was difficult to deal with the newly gained freedom when nobody calls anymore, because there is no office telephone and also no deadlines anymore, because no more presentations have to be delivered. Over eight months I have learned to endure freedom and use it creatively. I myself am responsible for structuring my day, and I am allowed to do tasks every day that help me move forward. Now the writing of applications belongs to it again. I am allowed to learn new things every day and to stimulate my thirst for knowledge and to quench it afterwards.
I admire courageous people who pack all their belongings and travel around the world, but I knew that my path would be different.  It was also clear to me that I have always loved my line of work and would return to it. Nevertheless, there are things that I love, that are not pragmatic or purposeful, and that are so exciting precisely because they allow me to look at familiar structures differently and leave my own perspective. I am glad that I dared to do so this year, even though I do not yet know where my path will lead me in the coming months.  I am also very grateful to the people who have accompanied me on my way into and through freedom.  I'll stay curious."
Once you get clear about what you truly want, what makes your heart sing, and focus on it, courage will follow. There is courage inside each of us. Coaching helps you discover yours. Contact us. We are as always just an email or phone call away.
Thank you, Gesche, for sharing your wonderful, inspiring story with us. You are braver than you think you are.
Keep leading courageously, Annette.